ENTER CONTACT DETAILS TO RECEIVE A COUPON via EMAIL
$30 off Introductory 1-Hour Swedish Massage
RATED #1 in CLIENT SATISFACTION!!*
~~~~Try the Elements Way!!~~~~
Just enter your contact information and we'll send you an email coupon for $30 off per Guest. Or simply call the studio and mention this form to schedule the best massage in Northport!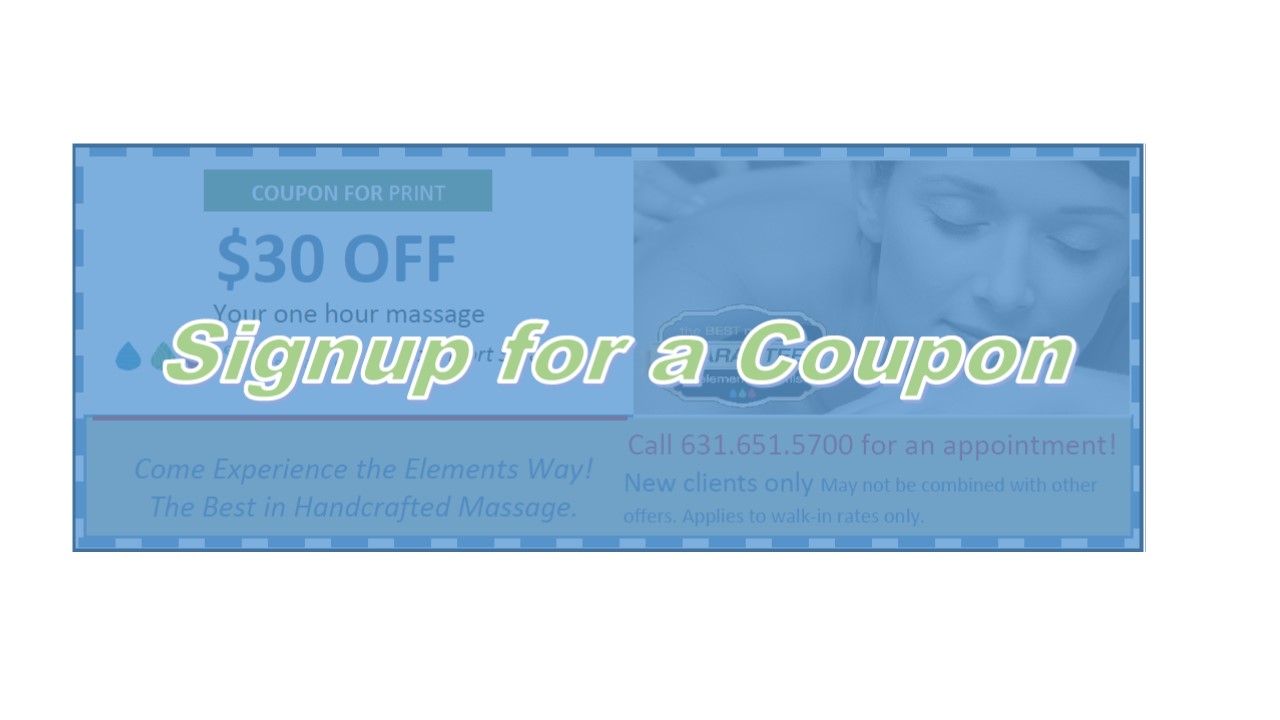 Swedish Massage
The most common type of massage is Swedish massage therapy. It involves soft, long, kneading strokes, as well as light, rhythmic, tapping strokes, on topmost layers of muscles. This is also combined with movement of the joints. By relieving muscle tension, Swedish therapy can be both relaxing and energizing. And it may even help after an injury.
Best For
Relaxation, Stress Relief and First Massage
Basic Strokes
Effleurage: a smooth, gliding stroke used to relax soft tissue
Petrissage: the squeezing, rolling, or kneading that follows effleurage
Friction: deep, circular movements that cause layers of tissue to rub against each other, helping to increase blood flow and break down scar tissue
Tapotement: a short, alternating tap done with cupped hands, fingers, or the edge of the hand
Why It's Called Swedish Massage
Swedish massage is based on the Western concepts of anatomy and physiology as opposed to energy work that is more common in Asian-style massage. Both Swedish massage and physical therapy were pioneered by a Swedish physiologist, Per Henrik Ling (1776-1839) at the University of Stockholm.
In the early 19th century he developed a system called "Medical Gymnastics" which included movements performed by a therapist. These became known as "Swedish movements" in Europe and "the Swedish Movement Cure" when they came to the U.S. in 1858. Today it is simply known as Swedish massage.
Benefits
The many benefits of Swedish massage may include generalized relaxation, dissolution of scar tissue adhesions, and improved circulation, which may speed healing and reduce swelling from injury.
Servicing Northport, East Northport, Commack, Kings Park, Green Lawn, Huntington, Huntington Station, Dix Hills, and Centerport.
*-Based on an industry-wide independent market research study.
~~~~~~~~BOOK NOW & SAVE!!~~~~~~~~