ENTER CONTACT DETAILS TO RECEIVE A COUPON via EMAIL
$30 off Introductory 1-Hour Customized Massage
RATED #1 in CLIENT SATISFACTION!!*
~~~~Try the Elements Way!!~~~~
Just enter your contact information and we'll send you an email coupon for $30 off per Guest. Or simply call the studio and mention this form to schedule the best massage in Northport!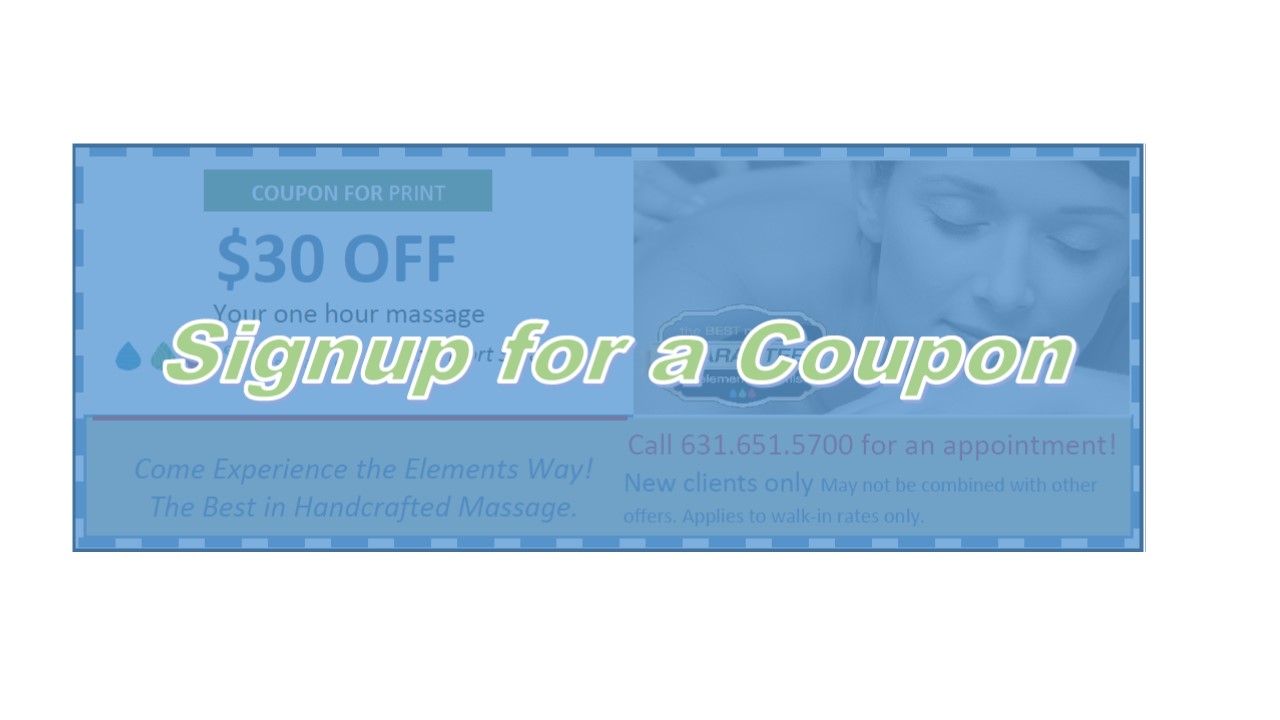 The Elements massage therapists in Northport listen to your needs and employ the proper techniques to deliver a truly customized therapeutic experience and is a medically proven method for supporting your health and wellness.
Massage Therapy can help relieve:
Neck Pain
Neck muscle strain can be a result of repeated movements or maintaining sustained positions. Some examples include:
Poor sitting alignment while at a desk or computer.
Working with the shoulders forward which causes the head to tilt back.
Sleeping in an awkward position.
Sitting in a car longer than usual.
Looking up repeatedly - for example: painting a ceiling or star gazing.
Lower Back
Low back pain is second only to cold symptoms when it comes to complaints that send people to the doctor. Sooner or later, back pain seems to get most of us.
Now, in the July 5 issue of the Annals of Internal Medicine shows that massage is an effective treatment for lower back pain. In some cases, researchers report, the benefits of massage lasted for six months or longer.
Middle Back
Mid back pain is most commonly caused by irritation or injury to the muscles and ligaments of the thoracic spine. The high incidence of poor postural habits, lack of adequate exercise and muscle conditioning, as well as the ever more popular "seated" lifestyles of Americans are all major contributors.
Upper Back
The most common upper back pain revenant to this discussion is between the shoulder blades and along the inside border of the shoulder blade. This is a common area for trigger points resulting from stress and muscular imbalance as a result of protracted (forward) head posture, collapsed (slumped) shoulders, or "mouse posture" from long hours at the computer.
NEED RELIEVE!
Let us Handcraft a Massage for You!
Servicing Northport, East Northport, Commack, Kings Park, Green Lawn, Huntington, Huntington Station, Dix Hills, and Centerport.
*-Based on an industry-wide independent market research study.
~~~~~~~~BOOK NOW & SAVE!!~~~~~~~~