ENTER CONTACT DETAILS TO RECEIVE A COUPON via EMAIL
$60 off Introductory 1-Hour Couples Massage
RATED #1 in CLIENT SATISFACTION!!*

Receive $30 off Your Rate per Guest
Just enter your contact information and we'll send you an email coupon for $30 off per Guest. Or simply call the studio and mention this form to schedule the best massage in Northport!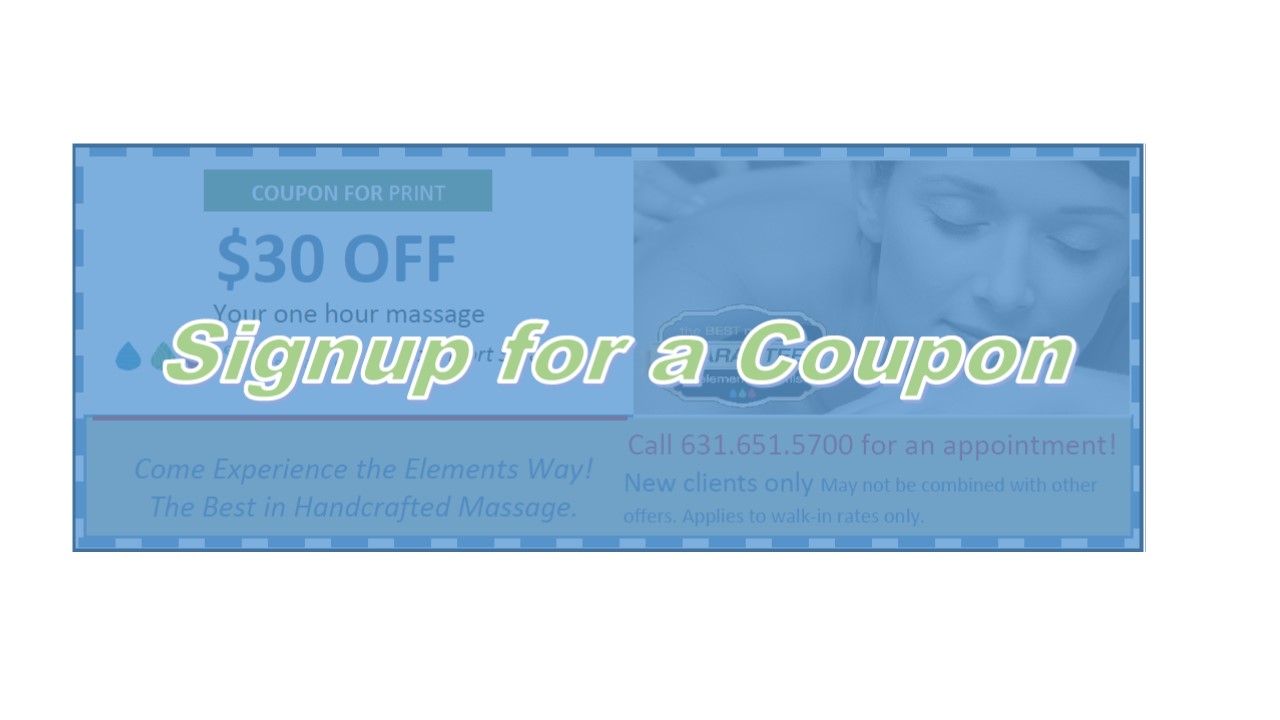 Relax and Reconnect at Elements Massage of Northport
While couples massages are becoming more and more popular, many people are still unsure of what to expect and what exactly a couples massage entails. To put it simply: it involves two people experiencing massage treatments at the same time in the same room. Elements Northport has a room set up specifically for this purpose, with two massage tables side by side, so husband and wife, boyfriend and girlfriend and same sex partners can enjoy this relaxing time together. We find that best friends and mothers/daughters also enjoy this special time to connect.
Best For
Relaxation and reconnecting, and enjoying the benefits of massage together. We recommend Swedish massage for couples. If one or both partners desire deep tissue or other specialized modalities, we recommend separate rooms to maximize the customization of each session.
Benefits of Couples Massage
The first benefit of a couples massage is quite obvious: it gives the couple the opportunity to relax while the therapist provides massage strokes specific to the couples' desires.
The second benefit is sometime surprising,it's the communication boost between partners. Many couples report being able to speak more openly and honestly with their significant other after a couples massage. It provides time for a relaxed conversation which paves the way for a wonderful union between the pair.
Servicing Northport, East Northport, Commack, Kings Park, Green Lawn, Huntington, Huntington Station, Dix Hills, and Centerport.
*-Based on an industry-wide independent market research study.
~~~~~~~~BOOK NOW & SAVE!!~~~~~~~~