Careers at Elements Massage™
Now Hiring at Elements Massage™ in North Seattle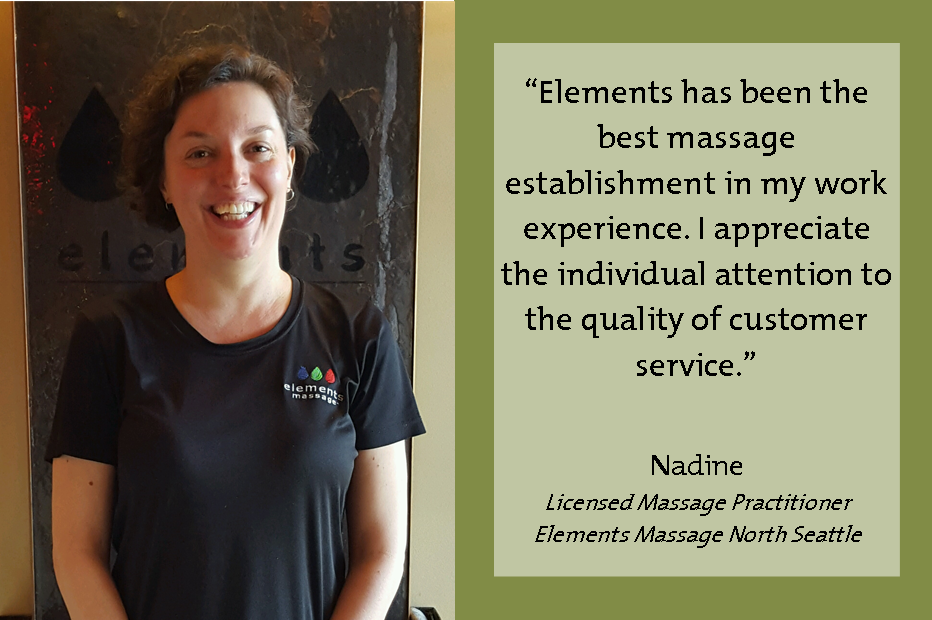 Start Changing Lives, Including Yours, Today!
Would you like to work in an environment where you are respected?
Where you know you make a difference?
At Elements

™

, we provide a professional setting, a regular work schedule, and a steady clientele.
You will benefit by working with peers and mentors so you can develop your skills!
Elements™ is a leader in the retail massage industry. Founded and owned by a massage therapist, our business is built on respect for our therapists.
Who are we at Elements Massage™ - North Seattle?
Owner Glenda Poletti has been an LMP since 1999 and is a former massage school instructor. Glenda knows the physical and emotional energy it takes to give massage week after week, and ensures that her staff is provided with the tools, resources, and time necessary to thrive in this rewarding career.
Shannon Allen, LMP since 2002 and a former massage school instructor, is our Studio Operations Manager. Shannon is a gifted teacher and a genuine mentor. Our staff loves working with Shannon.
Why Work for Elements Massage™ in North Seattle
Elements Massage™ in North Seattle has a reputation for taking care of its employees. Massage therapists enjoy working in a supportive team atmosphere where they share treatment ideas and learn new skills from one another every day. Elements™ also provides an excellent work environment, a consistent schedule with adequate time off to rest your body, and great clients. Come work in a truly therapeutic environment and experience the Elements™ difference!
Our clients come from all walks of life and are all ages. Because we educate our clients about the many benefits of frequent massage, many are members of the North Seattle Elements™ Wellness Program who come for massage therapy at least once a month.
Finally, the choice you've been looking for.
If you are searching for a way to promote well-being in your community, gain experience, and touch many lives, Elements Massage™ in North Seattle can help you succeed. We help you focus on massage, not business.
We have beautiful studios that are calm and inviting, but the most important ingredient in our successful formula is our skilled staff.
Offering everything you need for success...
Steady clientele
Better-than-expected pay and great tips
Consistent work schedule - or have a flex schedule - your choice
Booking on the hour and a quarter
Supportive feedback and regular reviews
In-service and continuing education
Lotion, linens, and other supplies
Free massage
Discounted liability insurance
Dental insurance benefits*
Free and discounted CE classes
Full administrative support
* Dental Insurance starts the 1st month after your hire date with 20 hours per week on-site.
We're Hiring!
Apply in Person or Email us your Resume:
E-mail: ElementsEmployment@gmail.com
Connect with us on our Elements Massage Careers Facebook Page!
10021 Holman Rd NW
Seattle, WA 98177
Phone: 206.632.8300
Fax: 206.632.8301