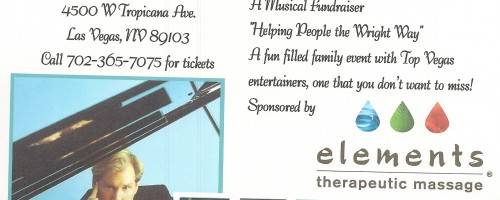 Soul to Soul Concert sponsored by Elements Therapeutic Massage
Press Release by Beth Ann Hilton Sep 19, 2011
FOR IMMEDIATE RELEASE

PIANIST DANNY WRIGHT PRODUCES EXTRAVAGANZA IN LAS VEGAS TO LAUNCH HIS FOUNDATION BENEFITTING HOSPITALIZED CHILDREN, SENIORS IN HOSPICE, AND THE ARTS IN NEVADA SCHOOLS.

Accomplished pianist and composer Danny Wright, who has sold over 6 million albums, is adding philanthropist to his impressive resume as he announces the "Danny Wright Foundation of Music." Wright celebrated the official launch of the foundation yesterday in Las Vegas with "Soul To Soul," a musical extravaganza at The Orleans Hotel and Casino, which raised funds for the foundation's programs.
The "Soul To Soul" Fundraiser presented over twenty-five top Las Vegas Strip headliners from 2:00 to 5:30 p.m. on Sunday September 18; tix were available to the public, ranging between $25 and $100. The event was hosted by Wright, directed by Lisa Gay-Drake and Ed Mathews, and sponsored by Elements Therapeutic Massage of Henderson, NV, which donated a free 30-minute massage certificate to every attendee.
The Danny Wright Foundation's Mission Statement is "Healing the planet one heart at a time. Dedicated to the enrichment of the lives of All People with the understanding and appreciation in the healing power of music. Helping people the "Wright Way."
The foundation is currently operational, with programs providing instructors and musical instruments to hospitalized children and seniors in hospice, and working toward funding Arts and Music Education in area schools that have lost their programs due to budget cuts. For instance, professional pianist Angela Chan works with and instructs children at Sunrise Hospital & Medical Center, while Alex Christopher, a young singer, visits 12-15 assisted living centers in the area to entertain elders with the classic tunes they recognize and love. Additionally, the foundation spearheads a program to provide transportation for school children to experience Youth Day with the Las Vegas Philharmonic, which costs approximately $25,000 a day to produce, including the high expense of busing.
"Only one-third of our area's middle school children were able to experience last year's program, due to lack of funding. We want every child to experience this life changing concert program," Wright said in a recent interview. "I remember what an impact a field trip such as this had on my life when I was young."
The foundation's president, Cheri White, adds, "Coming from a healing perspective with my business, Elements Therapeutic Massage of Henderson, it just seemed a natural evolution to bring together healing, music and philanthropy by supporting Danny and the foundation he envisioned. We hope to find a 'home' venue and sponsor to produce a similarly exciting monthly live music program to raise funds on an ongoing basis."
Danny Wright's new album "Soul 2 Soul" releasing on September 26, will also benefit the foundation when purchased at the foundation's website http://www.dw-foundation.org, with 10 percent of the sales donated directly to the foundation.

Donations and Financial Gifts for the Danny Wright Foundation are tax deductible and may be mailed to: Danny Wright Foundation of Music, 2831 St. Rose Parkway #206, Henderson, Nevada 89052. For more information on the Danny Wright Foundation or to become an individual or corporate sponsor, please contact Susan Comer at (702) 818-1142 or e-mail; susan(at)dw-foundation.org.

SOUL TO SOUL Benefit - Artists Line Up
Danny Wright (International Concert Pianist & Founder of Danny Wright Foundation of Music)
Lorraine Bono (Former Lieutenant Governor of Nevada ,Entertainer & Owner of "The Bootlegger Bistro")
Dennis Bono (Entertainer and Host of "The Dennis Bono Show" at South Point Hotel and Casino)
Domenick Allen- (Former Lead Singer of Mega Rock Group "Foreigner")
Leigh Zimmerman-(Tony Award Winning Actress on Broadway for "Chicago" & "The Producers"
Caleigh (Child Actress & Performer; Daughter of Leigh Zimmerman & Domenick Allen)
Reva Rice (Star of "Vegas The Show")
Rob Garrett (Neil Diamond Tribute)
Ronnie Rose (American Songbook/Jazz)
Mark O'Toole (Guest Host- Headliner at The "M" Hotel and Casino")
Elisa Furr- Songstress (Celine Dion Tribute)
Mark Giovi (Guest Host-Phantom & Other Souful Tributes)
Bobby Brooks Wilson (Guest Host-Son of Jackie Wilson & The Motown Sound)
Frankie Moreno (Sony Recording Artist Pop/Rock/Blues)
Reggie Gonzales (Lead Singer for R&B Group Rhythm Nation)
Mark Cargill (Concert & Jazz Violinist from American Idol & Dancing w/The Stars)
Larry Liso (Shades of Sinatra "Dean Martin)
Tim Wise & Route 66 (Award Winning Country Rock Group)
Linda Angelina (Country Lead Singer for Route 66)
LJ Harness (Las Vegas Drummer for Mark Giovi' & Announcer between Hosts)
Donna Lynne ( Soul 'n' Blues Songstress "Lucille's in Green Valley")
Martin Mancuso (Star Search Winner - Saxophonist-Straight Ahead n' Progressive Jazz)
Alex Christopher (American Songbook & Entertainer for Senior Living, "Destinations")
The New Dimension (w/KC Cousin, Lisa Gay, Rachel Jackson & Lannie Counts)
Lannie Counts- (Stevie Wonder n' Al Green Tribute)
KC Cousins-(John Lennon Tribute)
Lisa Gay- Songstress (Phyllis Hyman Tribute)
Rachel Jackson- (Jazz n' Blues Songstress)
Ramon Scruggs- (Stylistics Tribute)
Roy Hamilton Jr.- (Tribute to Roy Hamilton Sr.)
Nathan Ware-( Songwriter "Opera")

Benefit Participating Musicians
Musical Director: Guitarist Tony Drake
Assistant Musical Director: Mike Clark- Keys
Angela Chan-Acoustic Piano
Marcas Johnson-Keys (Background Vocals)
Tex Richardson-Keys (Background Vocals)
Chris Coleman-Bass
Mike Diamond -Bass (Background Vocals)
Nathaniel Scott-Drums (Background Vocals)
Steve Ware -Trumpet w/ Saxophone Player TBA (Memphis Horns from "BBKing's")


Contacts:
Beth Ann Hilton, The B Co.
Publicist
bethhilton(at)thebcompany.com
Susan Comer
Danny Wright Foundation of Music
2831 St. Rose Parkway #206, Henderson, Nevada 89052
Tel: (702) 818-1142
Share your thoughts, leave a comment!
Comments (0)