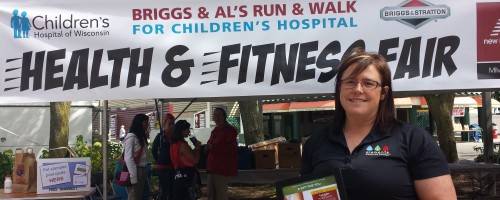 Elements Supports 2013 Al's Run in Milwaukee
Jodi Sep 15, 2013
On Saturday, September 14, Elements Massage was on hand to provide massage to the many runners and walkers at Al's Run Event in Milwaukee benefitting Children's Hospital. We were in the health & fitness tent, with a lot of other great vendors. We met one runner who had never had a massage before! It's alway so much fun to give someone their first massage experience! We also ran into several members and clients. Congratulations to all the runners and walkers! We look forward to supporting the event again next year!
Share your thoughts, leave a comment!
Comments (0)
The Elements Way.®
Therapeutic, handcrafted, and personalized massage.
Our Studio Location
Elements MassageElm Grove
2 Miles East of Brookfield Square Mall
12920 W Bluemound Rd
Elm Grove, WI 53122
p. (262) 754-3850
View Map Favorite
Hours of Operation
Mon - Sat 9am - 9pm
Sun 9am - 7pm