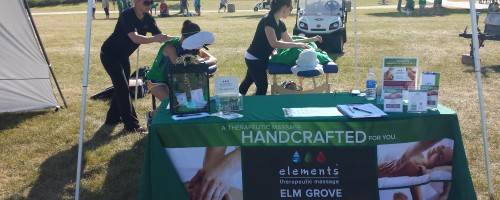 Arthritis Foundation 5K Run/Walk to Irish Fest 2013
Jodi Aug 19, 2013
Elements Massage was on hand on Saturday, August 18 to support the runners and walkers at the Arthritis Foundation 5K Run/Walk to Irish Fest in Milwaukee. We provided chair massage to about 35 athletes at the event. As you can see, Lidija from the Whitefish Bay studio and Lisa from the Elm Grove studio were working hard to soothe tight muscles! It was a beautiful day, and a great event.
Share your thoughts, leave a comment!
Comments (0)
The Elements Way.®
Therapeutic, handcrafted, and personalized massage.
Our Studio Location
Elements MassageElm Grove
2 Miles East of Brookfield Square Mall
12920 W Bluemound Rd
Elm Grove, WI 53122
p. (262) 754-3850
View Map Favorite
Hours of Operation
Mon - Sat 9am - 9pm
Sun 9am - 7pm