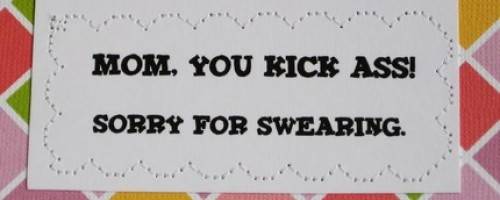 Therapist Thursday: "What's the best piece of advice you ever got from your Mom?"
John L. Pantera May 9, 2013
It's "Therapist Thursday", and we're paying homage to Mom.
This week's question was "What's the best piece of advice you ever got from your Mom?" I posed this question to my team yesterday, and received many different and some funny responses. We'd love to hear from our clients on the timeless advice they've received from Mom throughout the years.
Here is what my team had to say:
1. Do not rush to grow up.
~ Ida
2. Education is the best investment.
~ Katerina
3. Don't make the same mistakes I made. Be creative! Make your own.
~ Abbi
4. The golden rule: treat others the way you would want to be treated.
~ Andrea
5. Back when I was a freshman in college, my mother was diagnosed with breast cancer. I can say without a doubt that it was the hardest moment of my life -- my mom is my world. Despite the chaos and the chemo and the constant barrage of radiation and doctors visits, my mother stood firm. She told me, "Sam, life is an adventure and sometimes you just have to go along for the ride." I do and thankfully, 12 years later, she does too.
~ Samantha
6. To be honest, it was simply her whiskey sour recipe.
~ Jamie
We are upping the ante once again for this weekend's Mother's Day holiday...we will post this question on our Facebook page today. You could win a FREE 3-pak of 55-minute massages to use or giveaway as gift cards. Here are the 3 ways to win:
1. Post your answer to this week's question on our FB page (you must 'like' our page)
2. Post a comment on our blog
3. Come in or click on our website and purchase one of our Mother's Day gift card specials (www.elementsmassage.com/eastlongmeadow)
Best of luck, and above all else, thanks Mom...
Share your thoughts, leave a comment!
Comments (7)
Penny Griswold on May 09, 2013
Its a tie between "don't wear so much black" and her "take vacations by yourself"
kara on May 09, 2013
Be yourself. Always be a leader not a follower
Suzy on May 09, 2013
My mom taught me the value of structure and good manners. Always be kind to others
William Morin on May 09, 2013
Always be there for your family , thats what matters most.

Love you and miss you Mom
Penny Peck on May 10, 2013
Always wear a safety helmet when riding your horse and never sleep with anyone unless you love them, they love you and you think you want a long term relationship. I have followed both these suggestions and it has stood me in good stead! No traumatic brain injuries, no STDs and a solid, happy l
ong term relationship!
MJ on May 10, 2013
When you're older you will understand it
vickey on May 11, 2013
Its not what happens to you, thats important, its your reaction to it. I love my mom
The Elements Way.®
Therapeutic, handcrafted, and personalized massage.
Our Studio Location
Elements MassageEast Longmeadow
Center Village Square (Starbuck's Plaza)
80 Center Square
East Longmeadow, MA 01028
p. (413) 525-4456
f. (413) 525-6501
View Map Favorite
Hours of Operation
Mon - Sun 9am - 9pm
Please note: gift cards are non-refundable
Featured Downloads