Tanasbourne


2167 NW 185th Ave
Hillsboro, OR
elementsemployment@gmail.com
Summary
Elements™ is a leader in the retail massage industry. Founded and owned by a massage therapist, our business is built on respect for our therapists.
We have Massage Therapy jobs to fit your life.
Description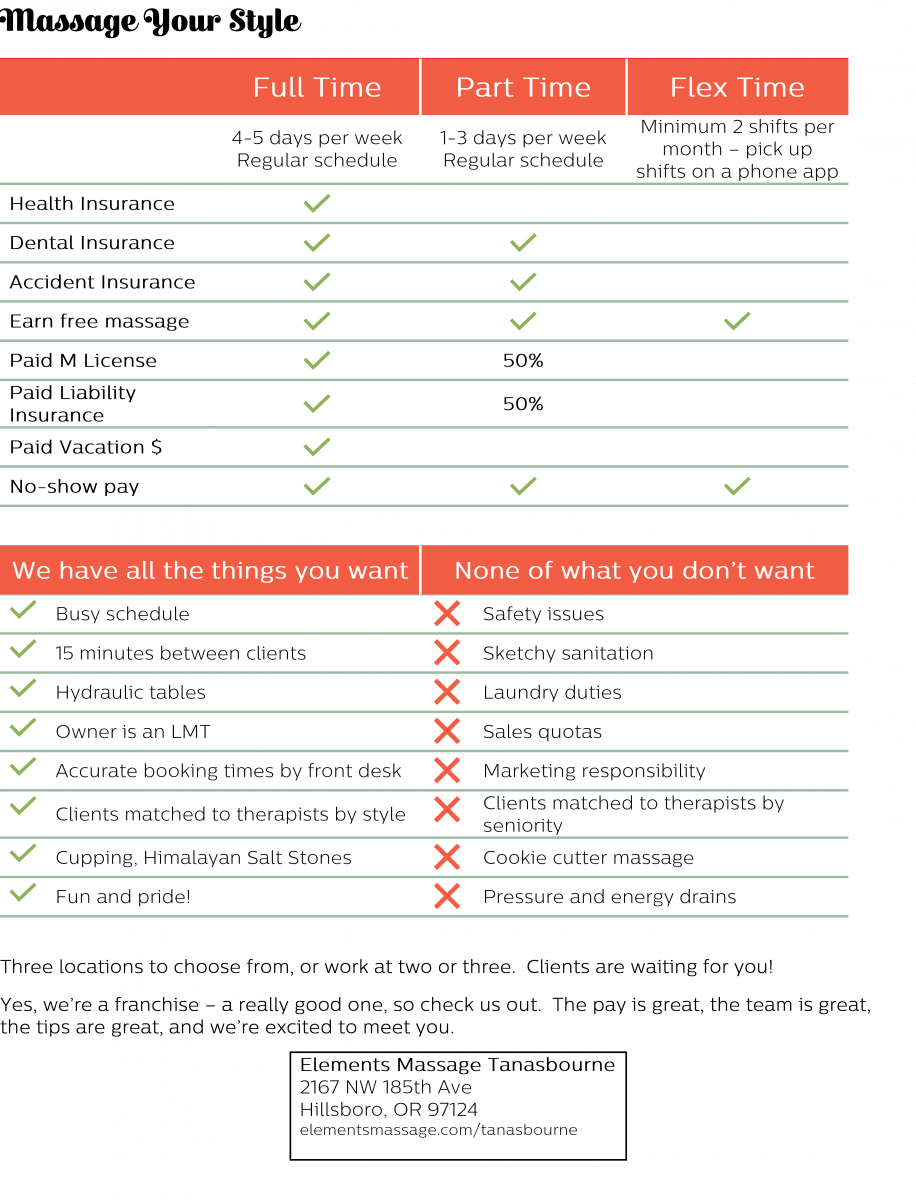 Massage Therapy jobs to fit your life...
Full Time - 4-5 days per week, regular schedule
Part Time - 1-3 days per week, regular schedule
Flex Time - Minimum 2 shifts per month, pick up shifts on a phone app.

We have...
Busy schedule
15 minutes between clients
Hydraulic tables
Owner and Managers are LMTs
Accurate booking times by front desk
Clients matched to therapists style
Cupping, Himalayan Salt Stones
In-house training, including Ethics requirement

We DON'T have...
Safety issues
Sketchy sanitation
Laundry duties
Sales quotas
Marketing responsibility
Booking by seniority (we match style and depth of pressure)
Cookie cutter massage

Clients are waiting for you!

Yes, we are a franchise - a really good one, so check us out. Therapists tend to stay a long time. The pay is great, the team is great, the tips are great, and we're excited to meet you.

Elements Massage - Tanasbourne
We're Hiring!
Apply in Person or Email us your Resume:
E-mail: ElementsEmployment@gmail.com
Connect with us on our Elements Massage Careers Facebook Page, or learn about our company benefits and team on our Careers Website!
2167 North West 185th Ave
Hillsboro, OR 97124